I was searching for some good Brinjal Recipes when I encountered this wonderful recipe for Stuffed Brinjal by Srilakshmi of Annapurna. It looked awesome and I was tempted to give it a try. The recipe seemed too easy to go wrong. So, I decided to give it a try.
I modified the original recipe with a few ingredients I liked. I added coconut and garam masala – 2 of my favorite ingredients. The outcome was good.
We had this stuffed brinjal for lunch along with rice and also for our evening snack 🙂 All credit for this recipe goes to Srilakshmi.
I am sending this photo for Click, photography event hosted at JugalBandi. The theme for this month is Bi-colour.
So I have started enjoying Brinjal.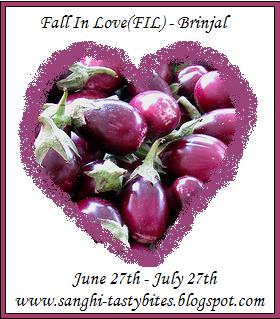 This recipe is again dedicated to my dearest Husband who has always inspired and encouraged me. I am sending this to Fall in Love FIL – Brinjal, event hosted by Sanghi's Food Delights.
Ingredients
Small Purple Brinjals (Vazhuthananga) – 6 to 8
Oil – 2 tbsp
For Grinding
Roasted Split Chana Dal/Dalia (Pottu Kadala) – 1/2 Cup
Coconut Scrapes – 1/2 Cup
Chilly Powder – 2 tsp
Garam Masala Powder – 1/2 tsp
Cumin Powder (Jeerakam) – 1/4 tsp
Salt – to taste
Ginger Garlic Paste – 1 tsp
Water – 1/2 cup
Preparation Method
Grind all the above ingredients to form a coarse paste.
Wash the brinjals. Remove the stem and make four long slits on each brinjal.
Stuff the paste inside each brinjal liberally.
Heat oil in a wide non stick pan.
Add the stuffed brinjals to the pan. Add leftover paste so as to cover the brinjals.
Cover and cook on low heat changing sides occasionally.
I cooked the brinjals for almost 40 minutes before removing from stove top.