My blog "Kerala Recipes" completed 3 years a few months back. I should have done an Anniversary Post long back but better late than never! I started this blog in an attempt to do something useful during my free time. Little did I realize that this blog would eventually become a cherished collection of numerous tried and tested recipes from my Kitchen. I am happy that this little space has grown considerably in the last 3 years. Thanks to all faithful readers and followers of Kerala Recipes!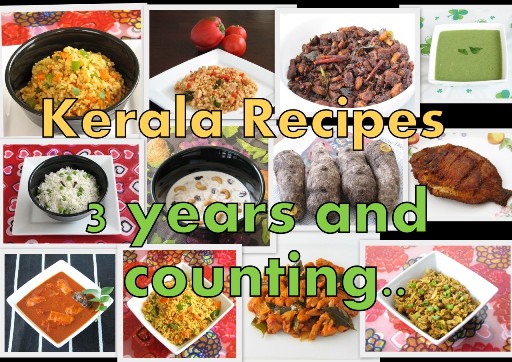 I thought it would be a good idea to come out with some stats for interested readers.
167,997 – Maximum number of page views received in a month
12,451 – Maximum number of page views received in a single day
1,530 – Facebook Fans (A big thanks to all of you!)
364 – Email Subscribers (Thank you dear Readers!)
340 – Number of posts published to date
24 – Max no. of posts published in a month
8.9 – Average no. of posts published per month
6 – Average no. of draft posts
4 – Average no. of hours I spend on this blog per week (I need to improve here)
2 – Number of months when no posts were published
1 – Lowest number of posts published in a month.
ONAM – Most Popular Page
Easy Appam – Most Popular Post
Blog Giveaway
And now coming to the first ever Blog Giveaway on Kerala Recipes.
As part of the Blog Giveaway, we will be giving $10 Amazon Gift Cards to 2 people. The Gift Cards will be send to your email and you can use it for shopping on amazon.com. So go ahead and spread the word about Kerala Recipes on Facebook, Twitter and more. 🙂
Rules for Giveaway
You need to have a valid email id to participate. 🙂
All you need to do is leave a comment on this post saying what you like about this blog "Kerala Recipes" and if you have tried any recipes from this blog.
Only one entry per email address.
The last day to leave a comment is Sep 30th, 2011.
The winners will be selected randomly.
Good luck!
Jisha